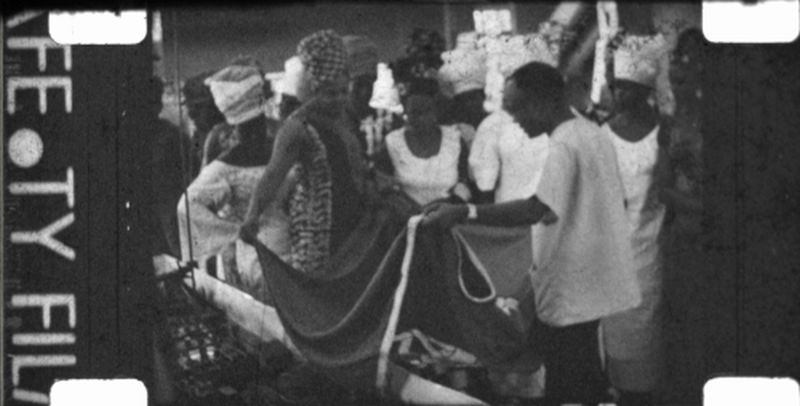 Luta ca caba inda: The struggle is not over yet is an ongoing research project on the film history of Guinea-Bissau which began when a partially preserved film archive resurfaced in Bissau in 2012. The project was initiated and is conducted by Filipa César, Sana na N'Hada, Flora Gomes and Suleimane Biai and has brought forth numerous results of different forms, a.o. a mobile cinema through Guinea-Bissau, a conference in Guimarães, Portugal, the books Luta ca caba inda and An archive in relation as well as several films by Filipa César, all made as unique collaborations with others, among them Spell Reel which premiered at the Berlinale Forum in 2017.
"In the beginning we started by recording in image a fact, events, phenomena. Banal? Anodyne? Who cares! Afterwards, life take care of the rest, of its future, of its transmutation, of its growth in space and in time. And here one can find himself growing up in life alongside his own creation. At one point it seems in direct competition with those mischievous things that are your images in a different context!

What made sense as an object of our propaganda in one particular context, can become a sturdy 'friend' difficult to appease in quite another. It can become an obsession for us to want to control the image that one day we produced accidentally, saying 'that's for history.' There, suddenly, the fact of not having since the beginning an agency can become quite commendable: the author of the image becomes quite the owner despite him/herself. The image gives itself a new life, a new destiny, with or without us. It frees itself of our guardianship."

Sana na N'Hada, 2015
Our image and ourselves / Notre image et nous), from: Luta ca caba inda: The struggle is not over yet, edited by Filipa César, Tobias Hering, Carolina Rito. Archive Books, Berlin 2017.

---
"LUTA CA CABA INDA is a Creole expression that means 'the struggle is not over yet'. It is also the title of an unfinished film in the collection of the Instituto Nacional do Cinema e Audiovisual (National Institute for Cinema and Audiovisual, INCA), in Bissau – a title that haunts the accomplishments of the film, of the struggle and possibly of this project, too. The struggle was Guinea-Bissau's struggle for Independence. The project is based on collaborative research around the contents of INCA's film archive. We appropriated the title and its spell for a series of public viewings and discursive events used to channel the contents of that fragmentary corpus, and we chose to welcome its conflicts. In this context, 'we' always means the Guinean filmmakers and the group that built an alliance from the moment the material was first catalogued in Bissau, through its digitisation in Berlin and up to the multiple screenings and discussions in dozens of locations over the past four years. LUTA CA CABA INDA showed itself to us as an irrelevant, irreverent force claiming: 'I am not from yesterday'. It is a projectile, a time capsule that has been travelling for decades, centuries, and we have taken the chance to join its journey."

Filipa César, 2017
from: Luta ca caba inda: The struggle is not over yet, edited by Filipa César, Tobias Hering, Carolina Rito, Archive Books, Berlin, 2017
---
"You entered the archive before you opened it. You saw a room with metal shelves. Stacked on the shelves were cartons, cans and plastic boxes in different sizes of the kind that typically contain film reels. They were not countless, but there were more than you could count in the few moments you had on that first occasion. You took two photographs in the room. They were meant to prove that there was something here / in there; that the archive existed. People you had talked to (in Lisbon) said that, if anything, the archive would only hold import films from former socialist countries or foreign films about Guinea-Bissau of which better copies would also exist elsewhere. There would be very few if any local productions, they predicted. The archive in Bissau, you were told, was of little interest. But of little interest to whom? You found that interesting."

Tobias Hering, 2012
from: Luta ca caba inda – La lutte n'est pas finie, Jeu de Paume, Paris, 2012